Overview
Dairy and dairy products bring the highest food-related cash receipts into New Mexico (40% of all receipts). After dairy, the New Mexico beef industry brings in the highest cash receipts. Beef and dairy depend on New Mexico's third largest agrarian pursuit — all types of hay, especially alfalfa, corn silage, sorghum, green chop and grain corn.

Cattle and dairy raisers participate in three starkly different value chains: local, domestic and export. Creamland Dairies (owned by Dean Foods) produces yogurt, cheese, ice cream, fluid milk, condensed milk, sour cream, whipping cream and other products, selling locally (about $50 million, mostly in New Mexico) and outside the state. Otherwise, the local New Mexico dairy industry barely exists, with only one grass-fed or organic dairy and fewer than ten small organic product manufacturers.

Over the next ten years, the dreams of each track of the livestock industry cannot harmonize to "one size fits all." Europe has recognized this reality for some time and has a two-path value chain — one for the domestic market and one for export. The value chains differ, for instance, in how inspectors track beef cattle from production through slaughter, packing and distribution. They have different rules (performance standards) because international trade has a greater risk of spreading diseases like Mad cow or foot-and-mouth. Export demands require different shipping conditions. When tri-track rules for local, domestic and export are well designed, they can spur within-chain innovation, investment and efficiencies that cannot be achieved with a single set of health, ID tracking, slaughtering and processing rules.

The barrier to local scale up has allegedly been cost, though some Midwest studies indicate that given equal access to government payments, small dairies can compete with CAFOs. The commodity milk industry benefits from federal Milk Marketing orders (a price support program), direct payments to producers, and the Dairy Export incentive program (essentially a subsidy for nonfat dry milk, butterfat and certain cheeses).

The most accessible market niche is "New Mexico 100% grass-finished beef." The cattle are "matured on grass" which means the minimum number of grazing days must be at least 120 days with each agro-ecoregion's "personality" making the grazing season's dates variable. (Over-wintering can be a difficulty for grass-fed cow-calf operations.) Though not strictly organic and with occasional problems of tenderness and taste, grass-finished beef is drug-free, grown from local cattle and has higher nutrient values.
Map: Ranches, Dairy and Livestock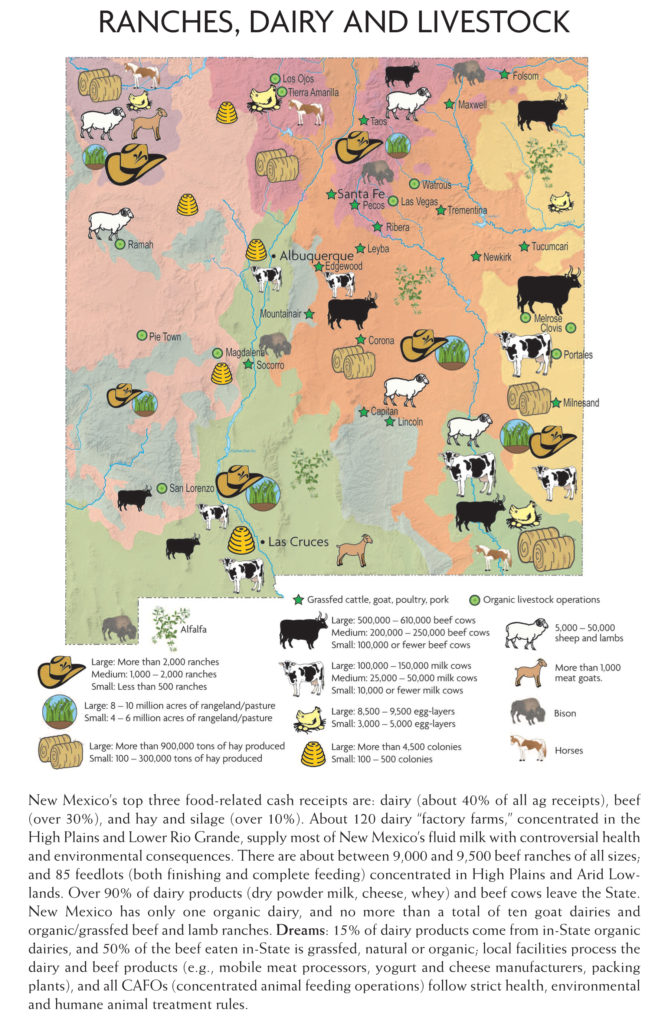 Download Ranches, Dairy and Livestock Map
Feedlots By City & County
Meat Firms
| | | |
| --- | --- | --- |
| Company Name | Address | County |
| Blanca Casa | 39 Eliza Rd, Santa Fe 87508 | Santa Fe |
| Boca Foods Co | 817 N Grimes St, Hobbs 88240 | Lea |
| Cal-Maine Foods Inc | PO Box 2166, Albuquerque 87103 | Bernalillo |
| Chorizo Comercio De Chalita | 3296 Coors Blvd Nw Ste B, Albuquerque 87120 | Bernalillo |
| Chubby Chicken | 910 NE Aztec Blvd, Aztec 87410 | San Juan |
| Cordova's Processing Plant | 128 Tafoya Rd, Belen 87002 | Valencia |
| Dairyland Packing Inc | 3845 Cedarvale Rd, Roswell 88203 | Chaves |
| Frontier Custom Processing | 42707 US 70, Portales 88130 | Roosevelt |
| Garrett's Brown Bag Jerky | 6961 Taylor Ranch Rd NW D, Albuquerque 87120 | Bernalillo |
| J & D Foods Inc | 120 Trumbull Ave SE, Albuquerque 87102 | Bernalillo |
| Joseph Quintana | 39 Aliza Rd, Santa Fe 87505 | Santa Fe |
| Kenneth Nosker | HC 66 Box 32, San Patricio 99348 | Lincoln |
| M G M Game & Custom Processing | 4728 4th St NW, Albuquerque 87107 | Bernalillo |
| Mathews Custom Meat Processing | 19484 Highway 314, Belen 87002 | Valencia |
| Meat Plant Holding LLC | 3845 Cedarvale Rd, Roswell 88203 | Chaves |
| Mild To Wild Jerky | 8135 Oakdale Pl NW, Albuquerque 87120 | Bernalillo |
| New Mexico By Products | 4124 Broadway Blvd SE A, Albuquerque 87105 | Bernalillo |
| Ol Meat Shop | 1089 NM Hwy 516, Aztec 87410 | San Juan |
| Old Santa Fe Trail Enterprises | 7500 Central Ave SE, Albuquerque 87108 | Bernalillo |
| Red Rock Beef Jerky | 602 W Highway 66, Gallup 87301 | McKinley |
| Ridgerun Enterprises LLC | Hc 66 Box 40, Wagon Mound 87752 | Mora |
| Shelleys Smoke Shop | 210 N White Sands Blvd, Alamogordo 88310 | Otero |
| Shop-N-Go | 2212 W Lea St, Carlsbad 88220 | Eddy |
| Sunset Foods Inc | 3072 State Highway 47, Los Lunas 87031 | Valencia |
| Tom's Turkey Legs | 1015 Glade Ln Trlr 1, Farmington 87401 | San Juan |
| Town & Country Custom Meat | 6368 S Hgwy 55, Mountainair 87036 | Torrance |
| Tyson Foods Inc | 5901 McNutt Rd, Santa Teresa 88008 | Dona Ana |
| Tyson Foods Inc | PO Box 12910, El Paso 79913 | El Paso |
| Valley Proteins Inc | PO Box 358, Bernalillo 87004 | Sandoval |
| Zenitram Industries Inc | PO Box 52, El Rito 87530 | Rio Arriba |
Processing Establishments
| | | | | |
| --- | --- | --- | --- | --- |
| PHONE | NO. | PLANT NAME | LOCATION | REP. |
| 873-1901 | 102 | RIO GRANDE BEEF JERKY | 2720 Isleta Blvd SW, Albuquerque 87105 | ANTHONY LUERAS |
| 884-2160 | 104 | BLAKE'S COMMISSARY | 3205 Richmond NE, Albuquerque 87106 | RON CHANSLOR |
| 632-3537 | 105 | L & G BURRITO | 20 CR 5478, NMB 3055, Farmington 87401 | GILBERT GOMEZ |
| 863-5155 | 106 | RED ROCK JERKY | 602 W. 66TH Hwy, Gallup 87301 | CURTIS COX |
| 454-0037 | 110 | EL RIAL TO CATERING | 141 Bridge St, Las Vegas 87701 | RALPH GARCIA |
| 323-1183 | 112 | EAGLE ROCK FOOD CO. | 8228 Menaul NE, Albuquerque 87107 | MIKE PEREA |
| 524-2751 | 113 | MAC'S MEATS, INC. | 1761 W. Hadley, Las Cruces 88005 | AL GUERRERO |
| 866-0177 | 117 | SUNSET FOODS | 3072 Hwy 47, Los Lunas 87301 | FRANK ARELLANO |
| 842-5579 | 121 | SABROSO FOODS, INC. | 1019 Sunset SW, Albuquerque 87105 | ROSEMARY SANCHEZ |
| 836-0611 | 122 | AL'S QUALITY MEATS | 5601 Bluewater NW, Albuquerque 87105 | AL BACA |
| 262-0240 | 123 | JERKY BY ART | 1701 San Pedro NE, Albuquerque 87110 | ART SANDOVAL |
| 863- 3690 | 125 | ERLINDA'S TAMALE SHOP | 624 N. 3rd, Gallup 87301 | ALICE SALAZ |
| 873-0623 | 127 | VILLALOBOS MEXICAN FOOD DIST | 429 Isleta SW, Albuquerque 87105 | RAMON VILLALOBOS |
| 869-2400 | 129 | SOUTHWEST GRILL INC. | 275 Bosque Farms Bl., Bosque Farms 87068 | ROBERT LOVATO |
| 887-3646 | 130 | LAKESIDE MEATS | 206 S. Main, Carlsbad 88220 | BOB DUGAS |
| 863- 3380 | 133 | PRONTO FINA MEATS | 2424 E. Hwy 66, Gallup 87301 | JAMES SEAY |
| 438-9655 | 134 | CASA BLANCA CARNE SECA | 39 Eliza Rd, Santa Fe 87505 | JOSEPH QUINTANA |
| 836-0112 | 138 | NM BEEF JERKY | 10403 Central NW, Albuquerque 87105 | FRANK CHAVEZ |
| 243-5584 | 139 | MUJERES EN ACCION | 1701 Broadway SE, Albuquerque 87102 | ALICIA GRANADOS |
| 455-3100 | 140 | PABLO'S JERKY | RT 11, Box 21O-V, Santa Fe 87501 | PABLO GONZALES |
| 376-2214 | 142 | CIMARRON REAL MOUNTAIN JERKY | 136 Euclid St, Cimarron 87714 | DUANE SHELL |
| 255-5370 | 143 | TULLY'S MEAT MARKET | 1425 San Mateo NE, Albuquerque 87110 | JOHN CAMUGLIA |